I stopped counting gifts last fall...ran out of steam while waiting, still waiting, to get our family all back together again. Then once we were, when I had the most to be thankful for, I let it go, the counting. My heart was overlowing happy, to be here, to hold him again, to dip toes in cold frothing waves, seagulls and snowflakes and family all gathered round close...The thankfuls brought tears, it was all so much, the relief of prayers finally answered...
January came rushing with resolution lists, new dreams, new goals, and another new challenge,
OneWord365
. I'd chosen Love the past couple of years and decided I needed a new word this year: Abide. How perfect...who more can help me love than Him and how more can He help me love than when I Abide in Him. When stress and worries and frustrations flare, so long as I Abide, He will comfort and calm me and Abide in me as well. Definitely my new word this year, my new prayer...Abide.
And with the new year, I'm starting another new list, counting once more toward
One Thousand Gifts
, remembering with each one, all good things come from Him...in whom I abide:
1. New beginnings
2. New goals
3. Snow on the beach
West Island Beach, Fairhaven MA
4. A new birdfeeder bringing new friends

5. Not lost Ativan (that was a panicky moment!! Whew!!)
6. Pretty colored cardstock to tangle on
7. The Michaels store app for free coupons (that could be trouble....)
8. Strength to withstand temptation to eat out
9. Pulled pork soup
10. Brainstorming bike ride
11. Best hubby ever who's tire light brought him home for air and he ended up filling my tire first (he's so awesome!)
12. A kitchen filled with hungry boys
13. Overhearing Bugga bragging to his friends about my art
14. Actually finishing projects
15. Realizing just how many art toys I have to play with--yay!
16. Cocoa rice krispie treats with peanut butter--mmmm!!
17. Dogs in stores--sweet little sleepy Pug at Wings 'n Things and Boo, a lab at Moby Dick
18. Ray's Pizza!!
19. New pretties for the bathroom (this'd be a great place for pics...slackin' this week....got a cute little basket with sea grass and shells, and a little lobster and shells for our 'sea shelf' up there. Guess you gotta come see in person--haha!)
20. Morning snow, coffee, and zentangle
21. High school basketball game with friends


Jacob, Bug, and Colin showing Whaler Pride for Perfect Attendance Day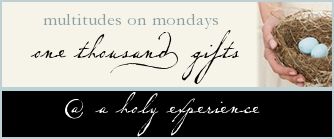 Join in counting His glory....
Today, may you be aware that worship is a way of life — it's not just a once a week event. May your worship never cease. May you continue living in the Father's presence, and may you continue being thankful for what he has done.
"Shout to the Lord, all the earth. Serve the Lord with joy; come before him with singing. Know that the Lord is God. He made us, and we belong to him; we are his people, the sheep he tends. Come into his city with songs of thanksgiving and into his courtyards with songs of praise. Thank him and praise his name. The Lord is good. His love is forever, and his loyalty goes on and on."
Psalm 100