Up way too early here this morning to help hubby get ready for his appointment today. He had to be up at three-thirty, so I got up at two-thirty to have my quiet/sanity time for the day...Gonna be a long one...
But!! I got some great news yesterday! One of my favorite artists, Marcia Furman, hosted a giveaway for her birthday on her blog,
Brain Overflow, Artful Antics and Other Shenanigans
and I won!! I got to pick my choice of her Scrabble pendants--which was not easy as I love ALL of her stuff, but I narrowed it down to a few (pictured below) and finally chose my favorite favorite, Free--the one of the very right...yay!! I'm so excited--can't wait 'til it gets here! You can check out more of Marcia's amazing artwork at her Etsy shop
here.
Romans, Firmly Rooted, and Free Scrabble pendants by the amazing, super talented (and cute!) Marcia Furman
Then...I had stumbled across this cleaning recipe somewhere the other day....I love making homemade cleaners but they don't always live up to expectations. This baby, though--wow!! Super simple (and *cheap!!* I love cheap!!) it's a quick mix of
Original Blue Dawn dish detergent and white vinegar
--viola!! You can make different strengths for a bathroom cleaner, toilet bowl cleanser, carpet spot remover, or an all purpose strength. A thicker strength is a great soap scum remover that you can let sit overnight, then rinse off the next day for a super clean shine. I used it in both bathrooms yesterday and it worked beautifully! I also mixed up a spray bottle of the all purpose strength for the kitchen--have to say, I'm in love!!
AND!!! My new running shoes should be here later today!!!!!!!!!!!! Check these beauties out: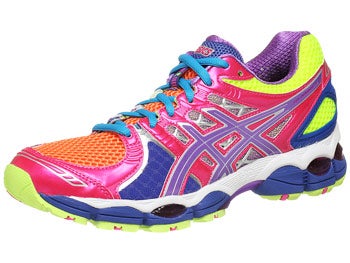 Asics Gel-Nimbus 14--aaahhh!!!!



I haven't been able to run or train for the past couple weeks, waiting for a heel spur to, well, heal...Poor Tuck's been just as anxious as I have to get back out there and pound some pavement. We may just have to do that after the FedEx guy drops these off--yay!

Got my addresses yesterday for my

postcard swap

--one goes to Australia, another to Canada, and the third all the way to---Massachusetts--hahaha! I'll receive cards from Canada, Connecticut, and....Massachusetts-I love it! We have lots of amazing artists here in New England!!

Hoping I'll have a chance to tangle later, at least catch up in my calendar a bit if I don't feel inspired or quite up to the

Diva challenge

or

Bright Owl Zendala dare...

May be just a wee bit tired after being awake since two-thirty this morning...so just might take a nap rather than a run....we can break those new shoes in tomorrow...We'll see--have a great day!!