I am so ready for a new week and a new month...I know, don't wish your life away, right? But January has been a less than favorable start to the year so far. It began all right but the last two weeks rather fell in the dumper and I am champing at the bit for a chance to pick things back up and get realigned here...I'm not dropping the ball like last year and just muddling through. I want to do make something of this year, be more productive as well as creative, so c'mon February!
Ann Voskamp's recent post of her
25 Point Manifesto for Sanity
has really hit home this week. First, it's simply brilliant-as is all her work (if you're not reading her blog,
A Holy Experience
, you really need to be!) I printed mine out and have it hung on the fridge for a daily reminder to keep moving forward, in His way...simply, encouraging, beautiful. I love it!
I didn't get a chance to finish any creative projects this weekend--too much running around and too little time with toys...But
last week's (*groaning in dismay of lateness...*)
zendala is almost done, so I should have that ready to post either later today or first thing tomorrow. And I had a brilliant inspiration for a little printable to whip up and may just be able to post it on Etsy?? One of my goals for the year...way past time for that...Just have a bunch of errands to run today and cleaning chores I need to do since I'll be sitting at the doctor's with Mr. Hubby a good chunk of tomorrow morning...catching up on some reading anyway!
And I need to get back to
counting
again...
46. Homemade chicken noodle soup with crusty bread for dipping
47. The silly comfort of Alka-Seltzer Plus fizzies
48. Friends able to get Bug from the bus for me
49. Sea Lab field trip
50. Jammie days
51. Sleeping in (til five...becoming a habit!)
52. Unexpected snow
53. Freestones' Freshies (j'adore!!)
54. A new finch feeder
55. Swap postcards done
56. Girls' Day Out with Ashlee and lots of new goodies!
57. My hubby who comes home on his lunch to look at my misbehaving car
58. And who brings me ginger ale when I don't feel good--he's just the absolute best...I could cry I love him that much!!
59. Friends safe at their new home in VA--happy they made it, sad they're that much further away...
60. Safe flight for Ash and Kyle to FL for a week in the sun with Grandma Pattycakes (love!!)
61. Ann's Manifesto and new energy for the new year!
62. Pretty new curtains
63. Super soft Kermit green blankie (I really am a blanket addict)
64. A new rainbow of markers to play with--aahhh, toys!
65. Finished Beth Moore's study of Esther (and cried...big shock...beautiful study!)
Yeah, I dropped the ball on pictures again, too...Let's focus, however, on the more important, the counting (it's in the manifesto....are you counting His gifts?? Time to start??)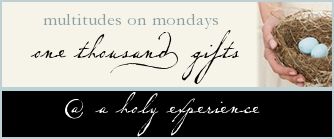 May the song within you which sings for eternity, sing loudly. Heed the songs of heaven.
Dismiss the songs of earth. May the Father quiet the voices around you which tell you to settle for less than what He promises.
"Always be joyful. Pray continually, and give thanks whatever happens.
That is what God wants for you in Christ Jesus."
1 Thessalonians 5:16-18