Snow, snow, and more snow--how deliriously happy am I?? Though we did have to miss Bug's bowling tournament on Sunday. The wind whipped viciously as another half a foot of snow piled up high, turning the roads to a perilous sheet of ice. Definitely not worth risking life and limb for a bowling tournament that they refused to reschedule after having to already do so last weekend as the blizzard blew through...Better safe and warm at home, there will always be more tournaments.
Somehow, I got absolutely nothing art wise accomplished all weekend, in spite of being snowed in. We caught up on our DVR recordings, watched the Westminster Dog Show and dreamed of possible babies (NOT anytime soon...still in love with Irish Wolfhounds...aaahhh!!) Time unminded slips by so fast...
McBugga is home from school all week for winter break, so we're off to the dentist later this morning to have a couple cavities filled--such fun! Then time for cleaning and chores before sitting down to play. I did take a stab at the
Diva's Challenge
for the week yesterday:
Quandary, 'Nzeppel, and sort of Floatfest filled with Caviar
And a picture below of an art journal page...Hopefully more fun to be had later today!
113. Soup and Stephen King time (souper-licious! Haha)
114. Third swap postcard received (can't find the pic...grrrr...it's really cool!!)
115. Empire Vision loving my hubby as he so totally deserves--he IS the man!! So glad they know it =0)
116. Finally resolution with Comcast, though it was like pulling teeth...Tenacity pays off-I will not be lied to or cheated!!
117. Bugga cooperating with his grounding without arguing--small favors that make a day so much easier!
118. Back to school again--peace once more...aaahhhh!
119. Arting time
120. More snow!
121. Best Valentines Day gift ever!
I'll need more soup....

122. Valentine date night with my love at PF Chang's and perusing Providence Place mall (some seriously interesting folks down there in Providence...so not used to city life anymore! Oh boy!)
123. Sissie here to stay with Bugga--they totally love each other
124. Bennett hugs at bowling
125. And even more snow!! This is my kinda winter!
126. A hubby who shovels the neighbors' driveways--he so rocks
127. Stew and crusty bread
128. A 55% off coupon at AC Moore and...
129. A rainbow to play with--new arting toys!

An art journal/lettering page I colored with my beautiful new soft pastels
Click on over to count along with us: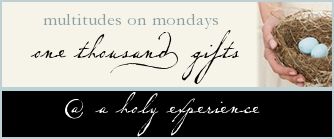 God is strong and can help you not to fall. He can bring you before His glory without any wrong in you and can give you great joy. He is the only God, the One who saves.
To Him be glory, to Him be greatness, to Him be power and authority through Jesus Christ our Lord for all time, now and forever.
"May the God of hope fill you with all joy and peace as you trust in Him,
so that you may overflow with hope by the power of the Holy Spirit."
Romans 15:13, NIV